Permanently Etches Or Marks Metal Tools, Parts Or Equipment With Your Copy, Designs Or Trademarks In Seconds For Less Than A Penny Per Mark!
The Etch-O-Matic Metal Marking System Has Been On The Market For Nearly 40 Years And Is The Easiest To Use And Least Expensive Method Of Permanently Marking Metal Available Today. That Is Why It Is Used By Hundreds Of America's Largest Corporations Yet It Is Still The Lowest Priced Kit On The Market Today...And It Will Save YOU Time and Money!
Why Not Check It Out Along With Today's Special Low Prices!
Read Below For More Information Or Use The Nav. Bar At Left To See
Detailed Info On All Our New Products.
---
If You Manufacture, Use Or Distribute Anything Made of Metal, Then The Etch-O-Matic Is For You

Permanently Marks Metal Tools, Parts Or Equip. In Seconds!

Etch-O-Matic
Metal Marking Kits.
Lowest Priced Kits Available Anywhere, Guaranteed!

The Etch-O-Matic Will Permanently Mark Or Etch Absolutely Everything That Is Made Of Metal In Just A Matter Of Seconds And The Marks Are Commercial Quality And The System Is So Flexible That You Can Draw, Copy Or Design Anything You Want On Your Computer And Then By Using A Quick Dura-Film Stencil You Can Mark Your Tools, Parts or Products For Less Than A Cent Per Mark. Nothing Else Even Comes Close To This Simple, Inexpensive System.

Check It Out For Yourself Etch-O-Matic Marking System

Etch-O-Matic Also Marks: Saw Blades, Dies, Gauges, Cutting Tools, Carbides, Drill Bits, Castings, Ball Bearings, And All Metals Including Stainless Steel, Brass, Copper, Bronze, Titanium, Aluminum, Tool Steels, Tin, Zinc, Lead And Black Oxide Coatings.
---
Attention Knifemakers

Etch-O-Matic
Marks Knives, Swords And Cutlery Easily In Just Seconds!

Click on the Photo To Learn About Marking Knives

Whether you make just a few knives a month as a hobby
or if you make dozens of knives a week, you can put professional logos and trademarks on all your knives and swords in seconds. Our electro-chemical marking system
will mark anything made of metal and save you thousands
of dollars over a laser marking system.

Lowest Priced Kits Available Anywhere!

Click Here To Learn About Marking Knives with the Etch-O-Matic
---
Now You Can Make Your Own Dura-Film Stencils To Put Your Own Professional Logo Or Trademark
On All Your Metal Products

Ultra Violet Exposure Units

Click Photo Above For
Complete Info. About
Ultra-Violet Exposure Units

The new Mark 440, Mark 560, Mark 680, and Mark 1000 UV Exposure Units let YOU make your own Dura-Film stencils With Your Own Copy, Designs Or Trademark And Then Permanently Mark Your Tools, Metal Parts, Knives Or Equipment In Seconds Right In Own Shop Or Plant.

These exposure units allow you to make your own custom stencils in sizes 4"x 4" up to 10" X 12". They will let you create absolutely professional marks on both metal and glass objects. The best part is:

You Can Do It for Less Than A Cent Per Mark!
---
New Aluminum Insta-Mark Labels

Make Insta-Mark
Aluminum Nameplates, Signs, Equipment Tags And Labels.

Click On Photo Above For Complete Info On
Insta-Mark Labels

Your UV Exposure Units do More than just make Dura-Film stencils. You can also make all kinds of Aluminum Signs, Tags, Labels and Nameplates for Products. In fact, if you can create it on Your Computer then you can put it on a sign, label, or tag in seconds! The possibilities are endless, and many people have created profitable businesses this way. Also These Same Units Will Make Aluminum Labels, Signs And Nameplates In RED, BLUE!

You Can Do It for Less Than A Cent Per Mark!
---
Sign-O-Matic Nameplate Maker

Sign-O-Matic
Nameplate Maker

Click On Photo Above For
More Info On Making Signs

Now you can create on, Your Own Computer, any Copy, Artwork or Design You Want and then make Professional Quality Signs, Labels, Equipment Tags, Nameplates or Panel Fronts in Minutes Right in Your Own Shop or Office. You can make them on Aluminum in Three Colors including: RED, BLUE!

Also these Labels can be used Indoors or Outdoors by using polycarbonate overlay sheets that are available in either gloss or matte finish to protect your label from the elements.
---
Sign-O-Matic featured on DIY Network

Video and Instructions: Tricked Out
Mitsubishi Eclipse Show-Car Display

Sign-O-Matic Was Recently Featured On National Television On The DIY Network Showing The Easiest Way To Make Quick
Inexpensive, Yet High Quality, Signs!
---
Great New Product Idea!
Now You Can Use Your Metal Etching Stencils
Made For The Etch-O-Matic Above And
ETCH GLASS!

Here Is A Great New Idea That Lets You Use The Stencils
You Make For Metal Etching...And Etch Almost Anything
Made Of Glass In Just Seconds. All You Do Is Create Your
Copy, Designs Or Artwork On YOUR Computer, Make A
Stencil (Like Above) And By Using Our New Glass Etching
Kits You Can Etch On Glass!
See Glass Etching Kits...Click Here!
---
There is Nothing Like These Kits Available Anywhere At These Low Prices!

Click on Photos for More Information About Each Product.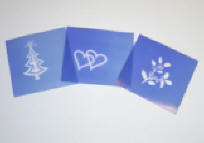 Would You Like To TRY Our Universal Stencils - Absolutely FREE? Just Click The Shopping Cart Link Below & Let Us Know Your Shipping Information.
It's Just That Simple!
Special Offers
and
Free Samples!
Would you like to be notified of special offers and new products? Would you like us to send you tips for expanding your etching business, or just more ways to enjoy your etching hobby? How about special members-only discounts? Try subscribing to our newsletter, and you'll get all these things and more.
---
Interested in Becoming an Affiliate?
---
Martronics Corporation is an Expert in
Marking Metal and Etching Metal, Multi-Tools, Craft-Stencils with Paint, and Making Rubber Stamps.
Save Money on Your Auto Insurance.
Click Here to See Our VIN Etching Kits On Sale for $14.95.
Our New Glass Etching Kits Let You Put Your Artwork On Glass In Minutes.
The Etch-O-Matic Marking System is an Inexpensive Alternative to Laser Etching and Laser Engraving.